Address:
Maxilla Walk Studios
4 Maxilla Walk, London W10 6NQ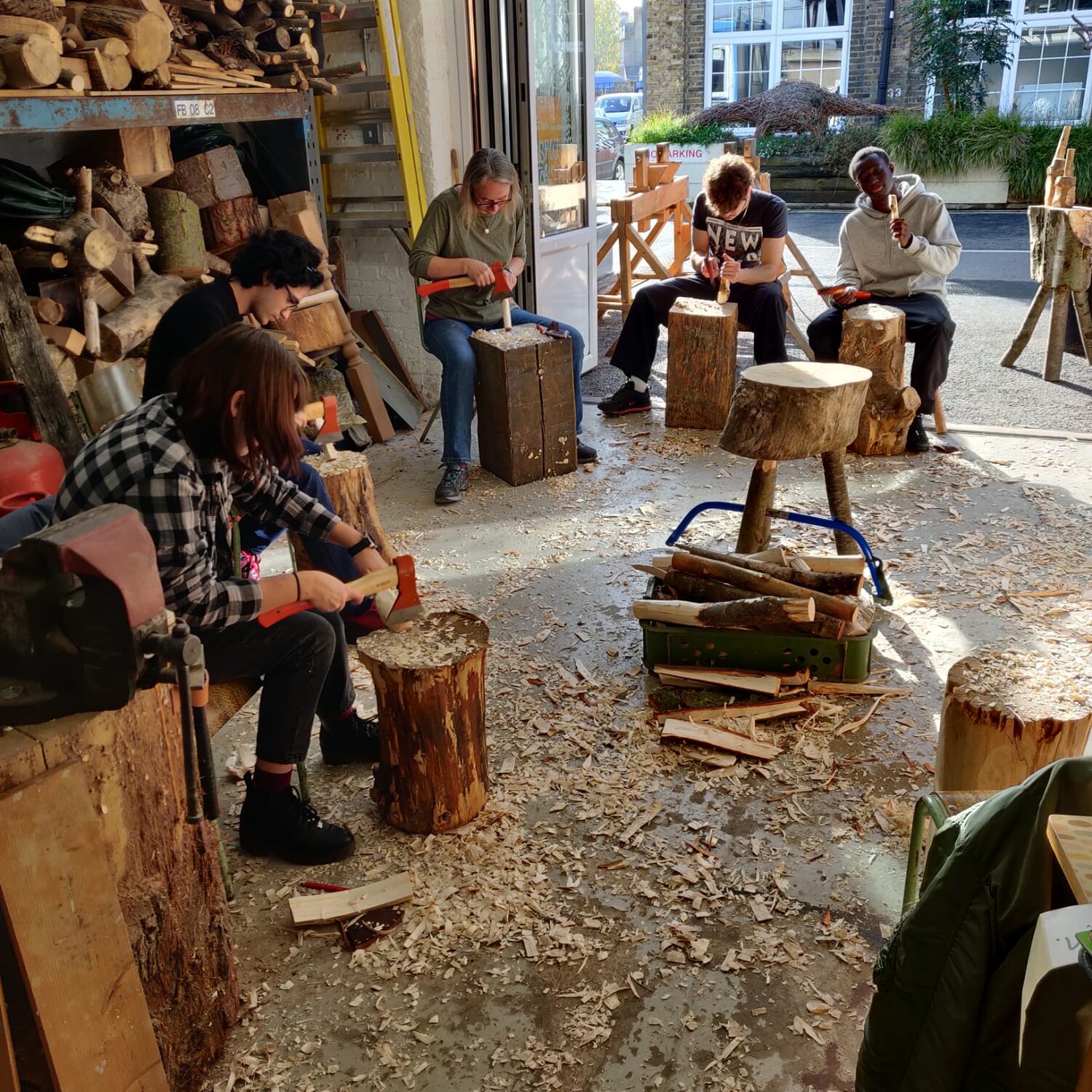 Skill Up is a year-long programme of eight specialist skills courses each taught over six sessions, delivered from our Maxilla Men's Shed, with the purpose of skilling up the users of the Shed and the wider North Kensington community.
Upholstery (wine crate to ottoman), with Carla Costa
Dates: 25 / 26 / 27 April
Times: 10am–1pm and 2–5pm
Attendees will learn how to upcycle a wooden wine box into an upholstered and lined storage box with a lid, using modern upholstery materials and techniques. View Carla's website here.
Woodworking, with James Torble
Dates: 10 / 11 / 17 / 18 / 24 / 25 May
Times: 10am–1pm
Attendees will work with hardwoods, learn about round mortise and tenon joints and build their own three-legged stool. View James' website here.
Silverwork and Wax Carving, with Chloe Morgan
Dates: 7 / 8 / 14 / 15 / 21 / 22 June
Times: 10am–1pm.
Attendees will learn how to wax carve, cast in silver, and work directly with silver to create rings, pendants, key-rings, and other objects. View Chloe's Instagram profile here.
Woodcarving (mirror making with ornate carving), with Jim Patrick
Dates: 5 / 6 / 12 / 13 / 19 / 20 July
Times: 10am–1pm
Attendees will design and carve their own wall-mounted mirror frame by learning simple chip carving techniques. View Jim's websites here and here.
Printmaking (with found objects and bespoke wooden blocks), with Michael Ward
Dates: 2 / 3 / 9 / 10 / 16 / 17 August
Times: 10am–1pm
Over six sessions, participants will produce creatively sophisticated prints using simple and direct handmade methods. Learn about woodcutting, engraving, lino cutting and the collagraph technique, which involves hand collaging a textured surface from which to print. Create several blocks/plates and print them in various permutations of order and colourways. View Michael's Instagram profile here.
Weaving, with Sara Kelly
Dates: 6 / 7 / 13 / 14 / 20 / 21 September
Times: 10am–1pm
Learn the fundamentals of weaving on a Backstrap loom and the creative possibilities of weaving. The course will cover setting up a Backstrap loom, measuring a warp, warping the loom, designing a tapestry, weaving, and finishing techniques. View Sara's website here.
More info here.
Spoon Carving, with Stephen Stockbridge
Dates: 4 / 5 / 11 / 12 / 18 / 19 October
Times: 10am–1pm
View Stephen's website here.
Coppersmithing, with Lizzie Hughes
Dates: 8 / 9 / 15 / 16 / 22 / 23 November
Times: 10am–1pm
Learn how to hammer sheet copper into shape and join individual pieces using soldering, brazing, and riveting techniques. This course is adapted from a class currently taught at London Sculpture Workshop in 'sheet copper sculpture'. View Lizzie's websites here and here.