Young Artists is a creative project for children in North Kensington. Each round, a small cohort of young people co-create with a visiting professional artist and explore what art is and can be, by experimenting with new materials and processes.
Participants are encouraged to develop their ideas playfully as well as enhance their critical thinking and problem-solving skills whilst offering a deeper understanding of visual art practice. The project includes trips to art galleries, Covid regulations permitting, as well as the chance to gain an Arts Award Discover or Explore.
We are now accepting registrations for the 2022 programme aimed at 12 to 15-year olds. Book now for a taster session on 25 June here, or book a place in the course here.
YA 2022
We are thrilled to announce that our current Studio 13 Resident, Jack Rooney, will be delivering this year's Young Artist Programme, which will run from June to August.
Our Studio 13 Residency is a 6-month pilot programme for artists from minority backgrounds who have social engagement at the core of their practice.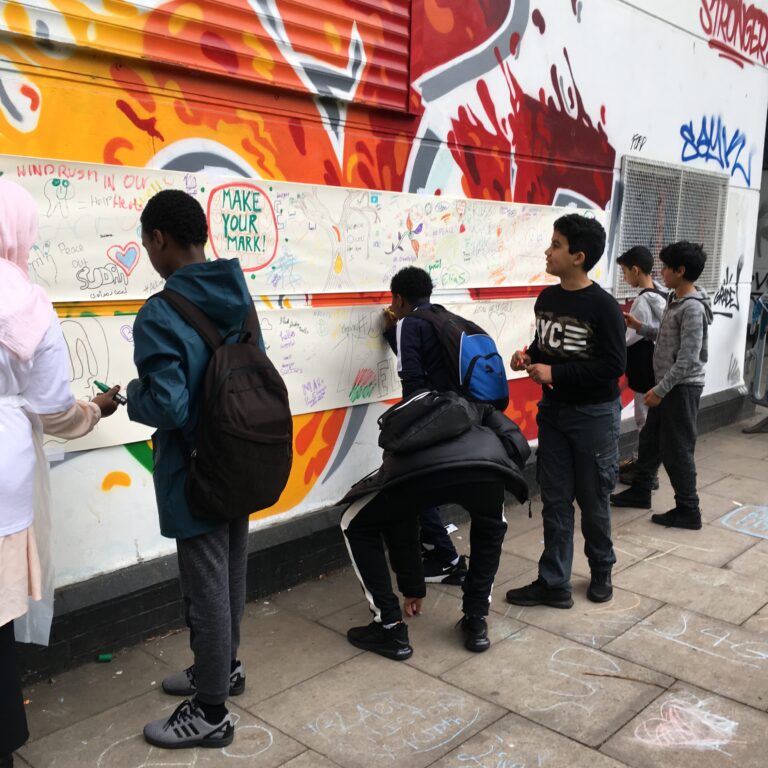 This summer holiday, the Young Artists will work with artist Jack Rooney and be introduced to a range of traditional and non-traditional materials to explore creativity. Register your interest by 3 July.
YA 2021

Spring term
Gal Leshem works with textiles, print, ceramic and video through a strong socially engaged practice. After completing her MA from the Slade School of Art, she has been artist in residence at Tate Modern, Tate Britain, the Barbican and Create and has worked with The White House in Dagenham. Gal will be encouraging the Young Artists to experiment with different materials and explore themes of belonging, heritage and identity as well as sharing their own cultural traditions.
Summer term
Anna Reading, who also trained at The Slade School of Art, explores imagined futuristic sci-fi landscapes through sculpture, both worldly and other-worldly. She will be inviting the Young Artists to create their own large-scale imagined landscapes with card, modroc and other media. She will also bring to the group simple animation and sound techniques to bring the artworks to life and amplify their ideas.
Autumn term
Emily Motto works with sculpture, installation and drawing to create playful forms, arenas and mazes. She is currently the Artist in Residence at The Bluecoat in Liverpool. Working as one of the artists on the Inspiring Change programme at Turner Contemporary, she worked with 20 young leaders to develop a new public artwork in Margate.
YA 2021 was supported by the Grenfell Projects Fund.