Meet our artists: Peut-Porter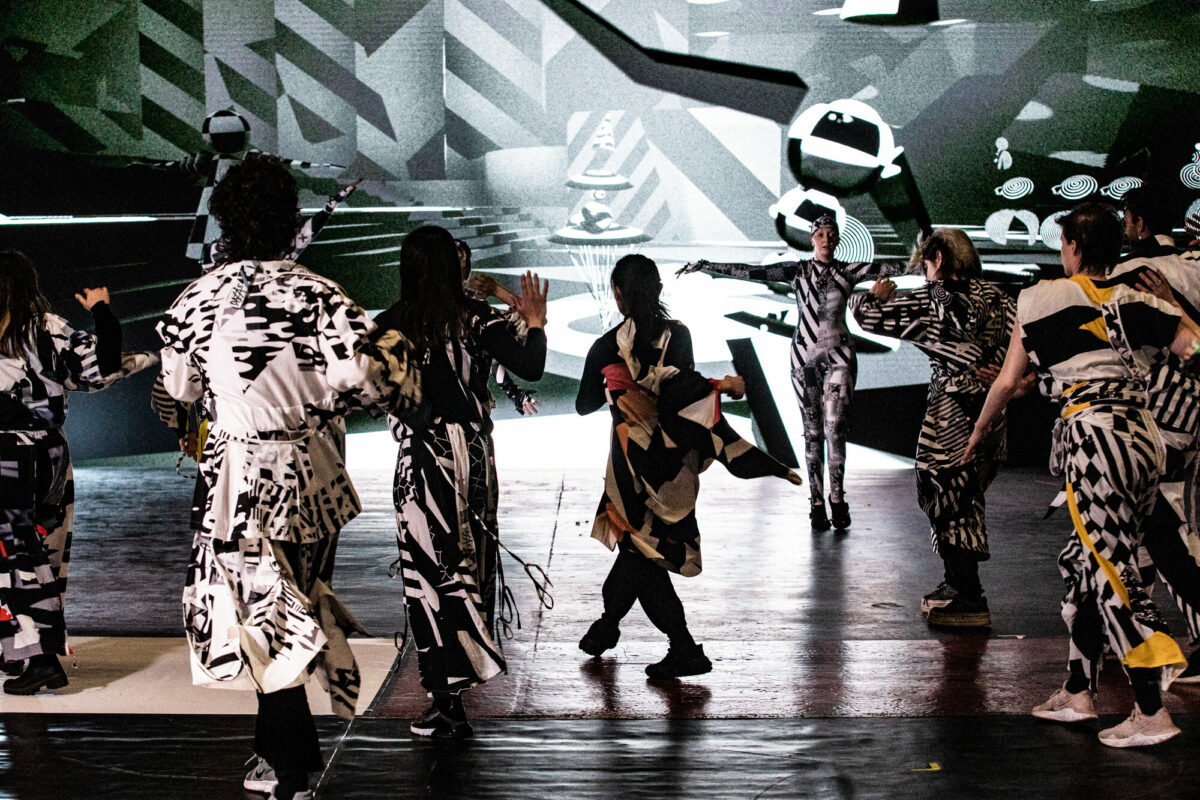 Peut-Porter in collaboration with Gibson/Martelli, DAZZLE – A Reassembly of Bodies, 2022. Photo by Oliver Wrobel
Meet our artists: Q&As
Part of an ongoing series, studio holders share insights about their work, their stories and what happens inside their studios. Visit this page to read more.
Name
Peut-Porter (Alexa Pollmann and Bine Roth)
Art practice
Fashion, Jewellery, Artefact, Performance, Technology
Studio building
Borthwick Street Studios
Would you like to tell us about yourself?
We're an all-female design collective.

What kind of art do you make?
Our work spans from installations to performance and participatory live- experiences. We develop garments, artefacts, avatars or other wearable structures – anything that can be 'worn' in the widest sense. They allow us to enter the world of body politics and to create social interactions in physical and digital realms.
We also count the delivery of workshops and being educators and facilitators as part of our practice, another form of body politics really.

Did you study art?
Alexa Pollmann is a design-researcher with a background in fashion(BA) and an MA in Design Interactions (RCA). Bine Roth is a material specialist and jewellery designer (BA) who graduated from the MA Textiles Mixed Media (RCA). Frequent collaborators are curator Kat Thiel and exhibition designer Oliver Wrobel, who share our studio.

What materials do you use? What do you like about those?
We have two rooms in our studio – one is for the material making, the other for the digital and desk-based making work we do. It's fantastic to have the luxury to have these two spaces and it best describes our background as well.
We can tell we get unsatisfied spending too much time in the digital or desk-based room and since we come from a background of metalwork, jewellery making, artefact, fashion, and textiles – the material room and its presence is one that keeps us grounded in those realms, although we are working with digital and virtual tools on a nearly equal footing.
We found throughout our work that whilst the digital is a wonderful playground where we can easily pick up knowledge through open-source software and online platforms that offer advice and tutorials for anything one needs to know really, the physical space and our machines give a different reassurance.
The more we work in the digital, the more we appreciate the 'heaviness' and 'presence' of these old-school machines where one can easily get lost and spent a lot of time fiddling. At the same time, having a physical piece come together by working through the different steps of material manipulation, assembly, and fitting is still the most rewarding process.

Can you tell us about your artistic career so far?
We have exhibited and performed at the Design Museum London (2015), Arcade East (2017), Sadler's Wells Theatre (2018), Siobhan Davies Dance Studios (2018), Museum of London (2018), Fashion Clash Festival Maastricht (2019), Jerusalem Design Week (2019) as well as Lodz Design Week (2019), and Crafts Council (2022).
But we also create parades or tour wearable installations – for example, we have done so in the streets of Dhaka, Bangladesh (2019) or during COP26 in Glasgow (2021).
We have recently exhibited a single-player VR experience at BFI London (Oct. 2020) and at Avignon Festival (2022), and are working on a large-scale Mixed-Reality project combining dance, fashion, live motion capture and VR that is on show at the Biennale in Venice currently as part of the Film Festival.

Do you collaborate with others? Who with / how?
As a collective, our practice is defined by collaboration. But our work is often public facing or taking place in the public realm, and here, we engage the public by asking them to contribute to our work.
Most often, our work includes performers and other artists who react to what we do. We have long-lasting relationships with a series of other studios, such as Gibson/Martelli studio from East London, or PARAA – a studio based in Dhaka, Bangladesh.
These collaborations evolve naturally, out of a common interest or shared ideals. But it also is about humbleness – to accept we can't do everything ourselves.
We are specialists in our own field but when working on projects that span many skillsets, you either pay someone to do what you need as a professional service or – and this is what we decided to be a more fruitful and interesting form of developing work – you invite another specialist to play with your idea. This is not necessarily an easy process, and it often is difficult to represent this work in the media in a way that gives everyone justice. Not because we fail to communicate this, but because the categories and forms of hierarchy that define our industry seem to be set in stone.
It's even still hard for people to understand why we don't name our studio after our last names but prefer to step away from the Big-Ego representation of our work. Sometimes, we might not do ourselves a favour by having a name that does not refer to a person, but it's a choice we made early on to try and keep some form of the level playing field where the collective can grow, shrink, represent individuals and groups at the same time.

What's the best piece of advice you've been given as an artist?
To show interest in your audience, the person who is watching and if you can, talk to them. Since we mostly are physically present when showing our work, we are approached by the people who watch with questions about the work. This is self-evident, and we enjoy the conversations that evolve from this.
But we highly recommend asking your audience about their background or practice, not only because you will find the most curious stories, but also because you'd be surprised who you might find in front of you. And it shows appreciation for the person in front of you. We were given this advice by my professor during my MA – for the final show. And we have stuck to it ever since.

Do you have any upcoming shows?
We are currently showing our collaboration work with Gibson/Martelli at Venice Biennale Film, it's a multidimensional choreography and immersive installation where audiences become part as they dress up, get fully motion-captured and share the virtual space with live performers who they interact with as avatars.
You may also be interested in...