Meet J D Rooney, our Studio 13 Resident
15 March 2022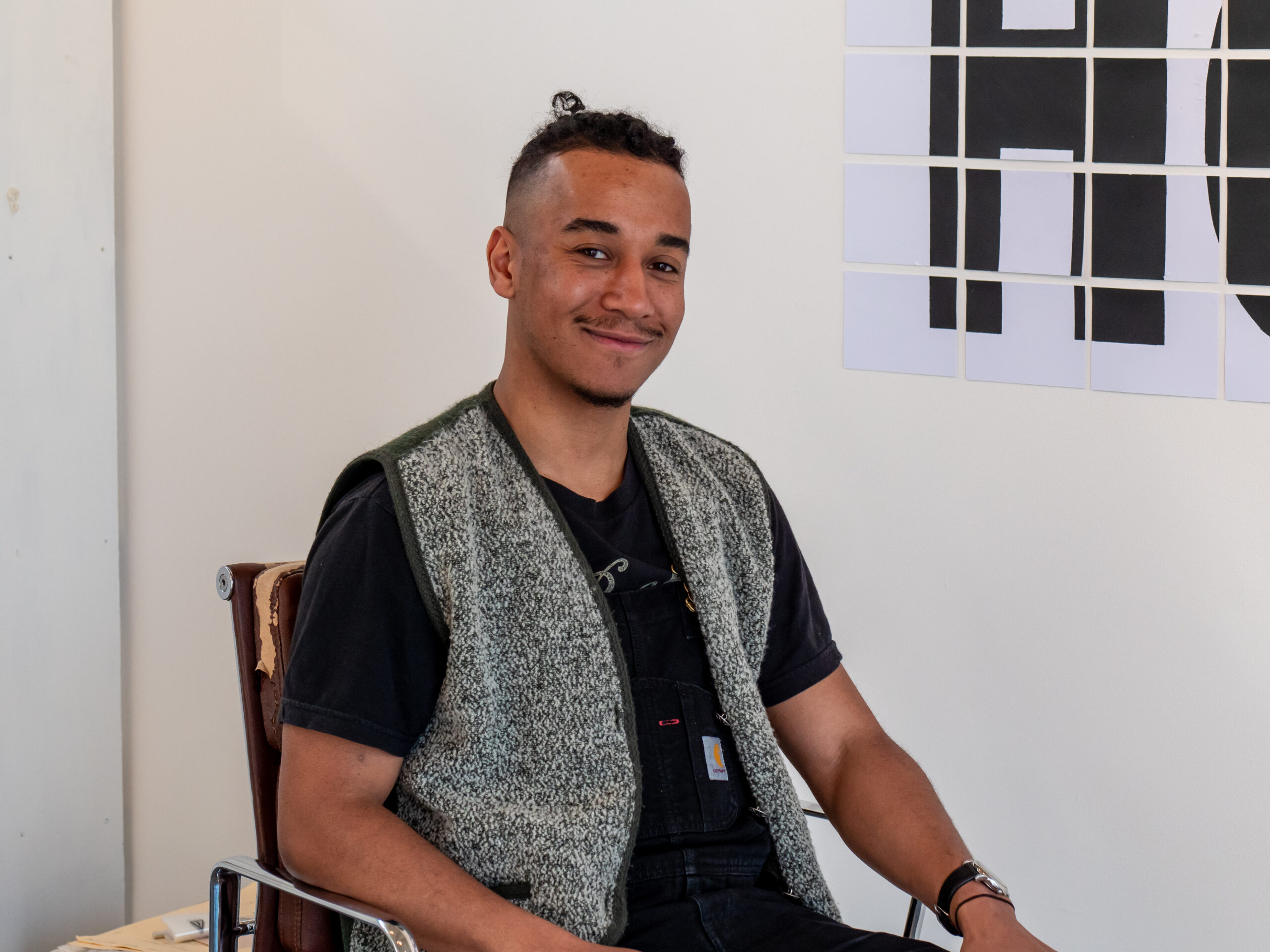 The Studio 13 Residency is our new artist-in-residence programme designed for London-based artists from minority backgrounds who consider social engagement as integral to their practice. The artist-in-residence receives six-months of rent-free studio space, training opportunities and peer-to-peer support in return for engagement with our Young Artists programme this summer.
After a long recruitment process, we've chosen J D Rooney as our first resident. We've asked him some questions that will help you get to know him better, so read on to find out more about Jack and his practice.

Introduce yourself
"Hello, my name's Jack Rooney, and I'm an artist from South London. My art practice stretches across many different mediums, but they are usually linked through my interest in socially and community-engaged performance-based works, with a highlight on the connections that we form with people, spaces, cultures, and with ourselves – and also what we do when fractures and dislocations from within these relationships."

Q1.

Can you tell us about your career leading up to the Studio 13 Residency?
"Although I'm here I still feel quite early in my career. I graduated from Chelsea College of Arts back in 2019 – so not long before the pandemic started. And when it did start, I had a lot of time for thinking space, but not much physical making space – because I couldn't afford a studio, and also because we were in a lockdown as well. But since leaving university I did actually have a really amazing opportunity, before the pandemic, where I was able to go to Hong Kong on an exchange residency with the Academy of Visual Arts at HKBU."

Q2. Why did you apply to the residency and what are you most looking forward to?
I really wanted to push myself, I really wanted to grow and expand my creative abilities and also to have more confidence in myself as well. Also, as lot of my current work has been interested in making performance-based that connects with people in public spaces – I thought, with ACAVA, which for nearly 50years have been focused on creating bonds between artists and communities, I felt that it'd be great to develop my interests within their space.

And now I'm here, I've been really enjoying getting back to making more physical works again – having the space to do that has been amazing, and it's something that I haven't had ever before. I'm also excited with the thought of meeting and hopefully working with more people in the local area too.
Q3. What inspired you to become an artist?
"Luckily… very luckily, a lot of my friends and family were, are, creatives. And that environment definitely gave me a lot of confidence with creativity, and also being able to share those.

I never imagined becoming an artist when I was a kid. I just used to enjoy coming up with weird little inventions, or weird little ideas for things.

It was only when I was in Sixth Form that my teacher at the time showed me that art, although it was on the curriculum, it didn't have to just exist in that space and that the ideas I had could be valued and developed within the classroom, but also, more so, outside of the classroom as well. The support that he showed towards me, and also towards a lot of the students that he had definitely made me feel like being an artist is something that is actually possible"
Q4. Are there any defining moments of your life that have led you to where you and your practice are now?
"I think moving out of South London when I was 14 and then moving back when I came to uni definitely shaped a lot of what I'm thinking about right now. Being someone who's of mixed Irish and Guyanese heritage, it was only after moving away from South London as a kid, then moving back as an adult, that I became much more aware of the proximity of my blackness in relation to – I guess because I'm mixed-race – my internal whiteness and the external whiteness of the spaces I was in. It was almost like I became aware that I was brown when I came to a predominantly white uni.

I think while I was at uni, I used to make work about this out of frustration. But now I have a different approach and a different view of all of that. Now my work is more to do with reconnecting with the parts of myself and parts of my culture that felt second nature when I was growing up as a kid. And highlighting the connections with people I've formed along the way."
Q5. What are you working on in your studio?
"I'm working on a lot of different things at the moment – I've got this project where I'm leaving postcards around different places in the local area – and different places in London as well – all with stamps and the address of the studio. It's all with this hope that people will find these postcards and send them back to the space. I've also got some installations and sculptures, that have been great to return to, and they are including objects that are relevant to my own history and my own family – so Durags, Dominos, and Tamarind shells have shown up in my work quite a lot. I've also been making work with clocks to track the different time zones of the family that has migrated, currently, or throughout history as well.

And zooming out at some work which is not finished yet, and I think will take some time to do – it's think project called "The Moon where you are" which, hopefully, will be a video or an archive of the recorded stories people have told about people and spaces they are geographically distant from, and how a synchronised gaze at the moon can connect us across borders and time."
Q6. If the sky was the limit and money wasn't an object, what project would you love to work on? 
"So, there's two things I'd like to do actually. The first being a project I've already started called "A long way from Clare to here" – it's this work I've been making where I'll stopwatches to record journeys across borders and spaces as they're sent via post to different people in different countries – or also people in the UK as well – I'll press start on this timer and send it off to somebody. It's been on hold for a little bit of time now just because the stopwatches are kinda expensive – so if I had the funding for that I'd return to that. I'd also make it in a way that I could give these stopwatches to other people and allow them to participate in this project as well.

Secondly though, if money was not an object, I'd say that… if I had the money, or if the sky was the limit I'd love to travel to Guyana – the country where my family are from, and it's also a place I've never even been to as well. If I could go, I'd love to make an audio or video work recording the sounds of the rainforest as I travel by boat up and down the rivers – retracing my grandad's steps within the Amazon."
You may also be interested in...