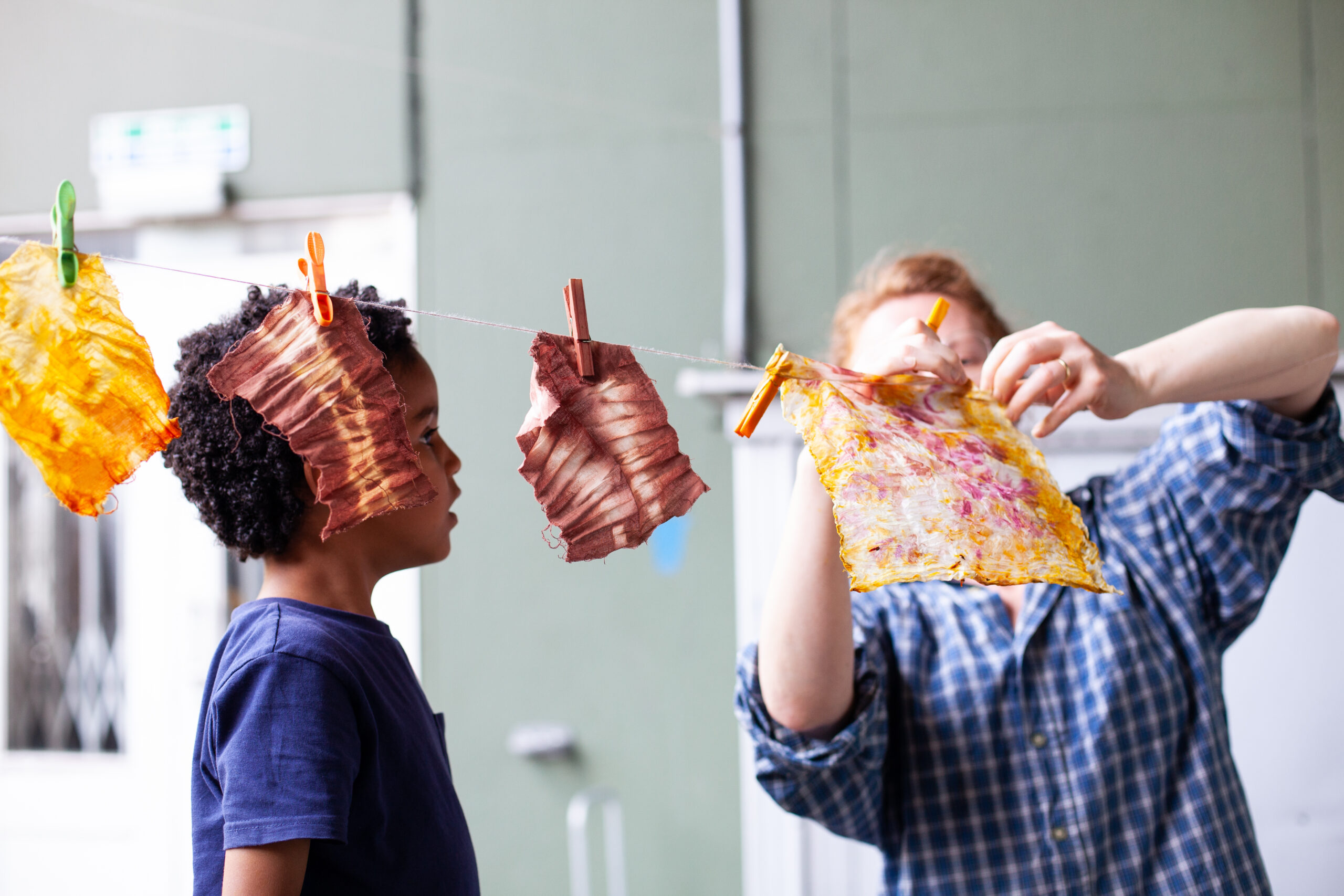 Starting in 2017, Flourish is an ongoing school holiday art programme for families in North Kensington with primary school-aged children. It takes place at ACAVA's Maxilla Walk Studios and offers a space for families to get creative and enjoy learning new skills with professional artists.
The initiative began as a one-off eco-art project funded by the Westway Trust, however, following the devastating Grenfell Tower fire, the need for a safe, creative and family-friendly space for local people to come together was evident. Over time the project has developed, and we invite a broad range of artists to respond to a different theme each holiday, enabling families to explore what art is and can be.
Past programmes have included; building an installation that explores our relationship to the galaxy; science and art-themed activities including making spinning planets and potato batteries; creating video installations using homemade camera obscuras, as well as activities such as printmaking, large scale collage and textile-based projects.
For younger audiences, we run interactive storytelling sessions using puppets, props and input from the children. We weave wonderful imaginative tales that often journey through the building, garden and beyond.
Past workshops
Programme 2022
Flourish: Explore
Flourish: Elevate
Flourish: Ravel and Unwind

Programme 2021
Flourish in the Forest
Flourish "Nurture"
Flourish: Light and Time
Flourish: Winter Tales

Programme 2020
Flourish "The Seasons"
Flourish @ Home as part of #ACAVAatHome
Flourish in the Forest
Flourish: Winter Tales

Programme 2019

Flourish: Harmony
Flourish: Connect
Flourish: Trace
Flourish: Cosmic
Flourish: Winter Tales

Programme 2018
Workshops and After School Club
Movement workshops
Flourish: Bloom
Workshops for Adults and Teens/Children
Flourish: Reflection
Flourish: Retrospective
Flourish: Winter Tales

Programme 2017
Workshops (June/July)
Workshops (Summer)
Flourish Arts at The Curve: Grenfell Assistance Centre
Winter Flourish at The Curve
Words from our Flourish families:
"Just to have that kind of support was really crucial for me, and I think for my daughter as well… I honestly don't know what I would have done that summer… So to have that to go to and have that as the creative aspect for us was like a real lifeline." Programme participant, ACAVA Flourish (after Grenfell fire)
"There's definitely a sense of community and all the regulars recognize each other, they all show each other their work when they've done it. They will support each other, which is so nice." Programme participant, ACAVA Flourish
"Not just the physical environment is safe but safe in the sense that the people there are warm and genuine. Safety in terms of your wellbeing and in the sense that I like I can go there and not worry, as I can almost switch off." Programme participant, ACAVA Flourish
"I think one of the things I really love is that it doesn't feel pressured. There isn't pressure to produce something. You're not doing something to have an end goal, it's more about the process." Programme participant, ACAVA Flourish
of families from a minority ethnic background
of families included children on the autism spectrum
of children in receipt of free school meals
of families from a minority ethnic background
of families included children on the autism spectrum
of children in receipt of free school meals